Also known as additive manufacturing, 3D printing has been used to create bespoke objects ranging from a bionic arm and hearing aids to running shoes and 3D e-fits for finding wanted criminals
With a market size estimated to reach $33bn (£26bn) by 2023, 3D printing is certainly no gimmick – instead, it could be a future cornerstone of manufacturing and every industry that uses it.
Having been adopted across sectors such as aerospace and healthcare for almost 30 years, it is now reaching a point of technological sophistication where it may soon enter mass production markets such as automotive.
And now there's even talk of 4D printing.
What is 3D printing?
Also known as additive manufacturing, 3D printing is the process of making a physical, three-dimensional object using a digital model.
It works by using an additive process to bring a digitally-designed model to life.
Successive layers of material are laid on top of one another until the product is fully formed.
Technically speaking, this is the opposite of subtractive manufacturing, where an object, usually made of metal or plastic, is gradually hollowed out.
The advantages of 3D printing include being able to produce complex shapes and items, which are often lighter and stronger than their traditional counterparts, using less material than existing manufacturing techniques.
Origins of 3D printing
In 1981, Hideo Kodama, of Nagoya Municipal Industrial Research Institute, published a report of the rapid-prototyping system using photopolymers – essentially an early conception of 3D printing.
Just three years later, Charles Hull – who is now executive vice-president and chief technology officer of manufacturing firm 3D Systems – created the first ever 3D-printed part – an eye wash cup.
He did this via stereolithography, a process by which designers are able to create 3D models using digital data that can be turned into physical objects.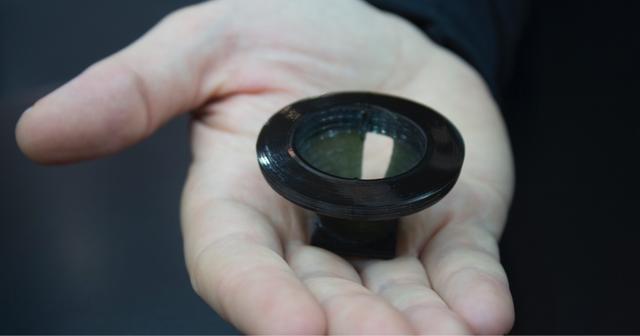 As this manufacturing technique evolved, it gradually grew into what we now know as 3D printing.
Examples of 3D printing in use
Aerospace and healthcare have been traditional proponents of additive manufacturing, being industries where the lighter, stronger iterations of key objects offer huge benefits over traditional production methods.
However, 3D printing can be used to create a wide range of potentially unexpected objects, with applications including everything from engineering lasers to hearing aids.
For example, it is currently being used to help forensic artists solve crimes by producing accurate models of persons of interest or victims.
Samantha Molnar, a forensic artist who works with authorities in Ohio, uses the technology to fill in the gaps left by traditional forensic methods.
Where officials might only find part of a subject's remains, such as the teeth or part of the skull, Ms Molnar can use a 3D printer to create a projected model of the missing parts.
Five years ago, after the technology's nascence but before its widespread public emergence, researchers at the University of Nottingham helped create an exhibition at London's Science Museum to showcase the potential of additive manufacturing.
A 3D-printed, functionalised prosthetic arm was what they came up with, illustrating how the technology could be used to create tailored prosthetics with electronic moving parts and even nerve endings.
Today, as the technology's applications have multiplied, so have the industries that use it.
Additive manufacturing now features in everything from the prototyping phase of product design for items such as running shoes and jewellery, to the creation of plastic fittings for water pipes used by humanitarian groups.
What is 4D printing?
The concept of 4D printing is now on the horizon. The process works very much the same as 3D printing, only with the addition of changing the dimensions of the created object over time and in certain conditions.
Using ultra violet light to cure the material beforehand, an object created by a 3D printer is then be formed into a completely new shape by way of interaction with spatial parameters – such as temperature and humidity.
While the technology is still in its infancy, 4D printing is expected to have promising applications for industries such as healthcare, where objects can mould and vary their structure depending on a person's condition.
By 2025, the technology's global market value is expected to reach $313m (£243m), according to market researcher Million Insights.
It said: "4D printing thus offers numerous advantages over 3D printing proving critical to have a wider deployment.
"Specifically, 4D printing offers actuation, programmability and sensing rooted directly into the material, without relying much on electromechanical devices and systems.
"In addition, 4D printing enables smart materials programmed with folding mechanisms, linear actuators, bending surface and material sensors."