From luxury to total wilderness, which of these unusual hotels tickles your fancy?
In the fight to stand out from the crowd, some hotels take things further than others. Here's a selection of resorts that have pushed boundaries to create unique experiences for their guests.
Arctic TreeHouse Hotel
Rovaniemi, Finnish Lapland
Offering spectacular panoramic views of snowy treetops, these uniquely designed suites offer an alternative way to view the Northern Lights.
This unusual hotel consisting of cubic chalets with huge, north facing windows clings to a hillside on the Arctic Circle, 2km from Santa Claus village.
Combining Lappish heritage and modern Scandinavian culture, this striking resort is the perfect escape for those looking to experience something totally unique.
The Manta Resort
Pemba Island, Tanzania
Stay in an underwater bedroom at the Manta resort and sunbathe on the top deck by day, then admire sea life swimming lazily by at night.
Located 250m from shore, the Swedish designed floating room takes two minutes to access by boat. Meal times are decided by you, and a mobile phone is provided for any assistance.
With a security guard anchored on a buoy not far from the room, guests are left alone to totally indulge in tranquility.
Glass windows provide almost 360 degrees viewing and in darkness, underwater spotlights attract curious sea creatures from octopus to Spanish dancers.
Of these unusual hotels, this is the perfect choice for those of you who are mermaids or mermen at heart.
Free Spirit Spheres
Vancouver Island, Canada
Why not take glamping to the next level? These spherical treehouses at this unusual hotel are placed carefully among the coastal rainforest of Vancouver Island.
Aspiring to provide a haven for guests to experience a natural forest environment, these outlandish looking pods allow you to hang between the branches of one of Canada's most spectacular areas.
If suspending in a quirky looking orb sounds like the ideal retreat for you, get booking.
Amangiri
Canyon Point, Utah, USA
Hidden within the pink canyons of the American Southwest, Amangiri offers adrenaline stimulating adventures as well as peaceful tranquillity.
This resort embraces the raw contours of the surrounding dunes and mountainous ridges.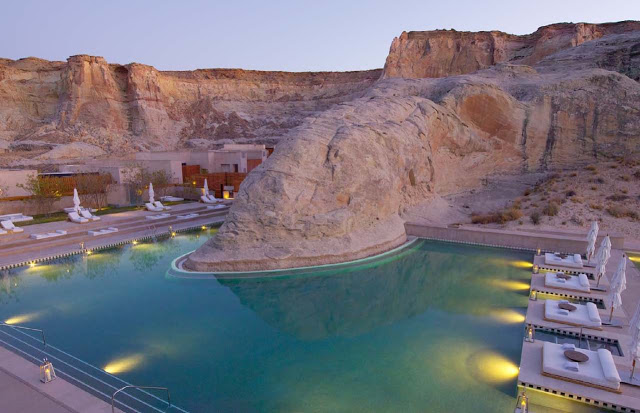 Including a desert view spa and dining rooms with floor to ceiling windows, the Amangiri is truly unique.
As the most luxurious of these unusual hotels, rooms come with a hefty price tag. However critics agree that this Utah hideaway is well worth the fee.
Treehouse Lodge Resort
Iquitos, Peru
Only accessible via an hour-long boat ride from Iquitos, a visit to Peru's Treehouse Lodge resort isn't for the feint hearted.
Guests stay in treehouses built high in the canopy of the Amazon rainforest, waking each morning face to face with monkeys and birds native to the luscious environment.All treehouses are equipped with bathroom and showing facilities, and the communal restaurant area is a small ropebridge trip away.
For those of you concerned about diving into the wilderness, fear not – the lodge provides a professional guide for each group and mosquito nets galore.
What could be more fun than a stay in this unusual hotel in the Peruvian rainforest?
Like our content?
Click here to read about what this super inspirational female CEO has to say on gender discrimination…
Like us on Facebook (we'd love you if you could!)