A Boston Consulting Group study has found the US is the best country to work for foreign employees looking to relocate, while Germany takes the UK's previously held number two spot - with political shifts driving the change
The US is the best country to work in the world ahead of Germany and the UK – while the global sentiment for working abroad diminishes, a study has found.
At the top of the employee's agenda is a collegial work environment and a healthy work-life balance, but convincing them to move country in order to work for a new employer is harder than it has ever been.
Global management consulting firm Boston Consulting Group (BCG) and a collection of 50 recruitment websites known as The Network surveyed 366,000 workers and 6,000 recruiters across 197 countries about which foreign nations they would most like to work in.
Despite retaining its position at the top from the 2014 survey, enthusiasm for working in the US fell, as it did for the UK – which lost its number two spot to Germany.
The most self-evident reasoning appears to be political upheaval, whether it's President Donald Trump's contentious trade policies or the UK's ongoing Brexit mission.
But there are plenty of other factors that contributed to these and other key findings in a report full of surprises.
Political policy drives change at the top for best country to work
The US' position as the best country to work owed much to votes from nations in Latin America, the Caribbean and sub-Saharan Africa for being the best country to work.
It was also the second favourite place to work for people in the Middle East, North Africa, and Europe, as well as third for respondents in South Asia.
But on the whole, America is viewed much less favourably as a place to work than it was prior to the 2016 elections.
Mike Booker, managing director of The Network and a co-author of the report, said: "Making a decision to pursue work in a new country is very personal.
"But there are larger forces too, including uncertainty about future government policy."
Recently stirred political tensions between President Trump and countries like Mexico have likely led to a diminished view of the country as a place to work, according to the study.
By contrast, countries such as Germany – which have espoused openness in welcoming foreign workers – have enjoyed a rise in the rankings.
Germany lost out on the global top spot as the best country to work to the US, but far outperformed the rest of Europe, beating the UK (fifth) by three places, France (seventh) by five, Switzerland (eighth) by six, and Italy (ninth) by seven.
"It is turning into a real talent magnet," said Rainer Strack, one of the authors of the study and a senior partner at BCG.
"Its number two overall ranking tells only part of the story. Germany is also number two for people under 30, people with master's degrees and doctorates, and people with digital expertise.
"These are cohorts that every country wants and that are particularly important in Germany because of the demographic challenge of an ageing population."
Working abroad – in any country – now less appealing
The survey showed a net reduction in the overall willingness to work abroad, with 57% of respondents saying they'd be open to the idea – 7% less than in 2014.
It suggested that a decline in global mobility could be to blame, particularly in Eastern Europe.
Countries like Poland, Croatia, Slovenia, and Romania are now all below the mobility average – having been above it in 2014 – with fewer people leaving those nations in a part of the world that has witnessed heightened investment and economic growth.
China too now has a significantly less mobile workforce than in previous years, with respondents from the country citing its rise as an innovator as a reason to stay put.
Splitting the survey's findings by industry, respondents in jobs like user interface design, mobile app development and artificial intelligence were the most willing to relocate, with 67% saying they'd be willing to move for the right job.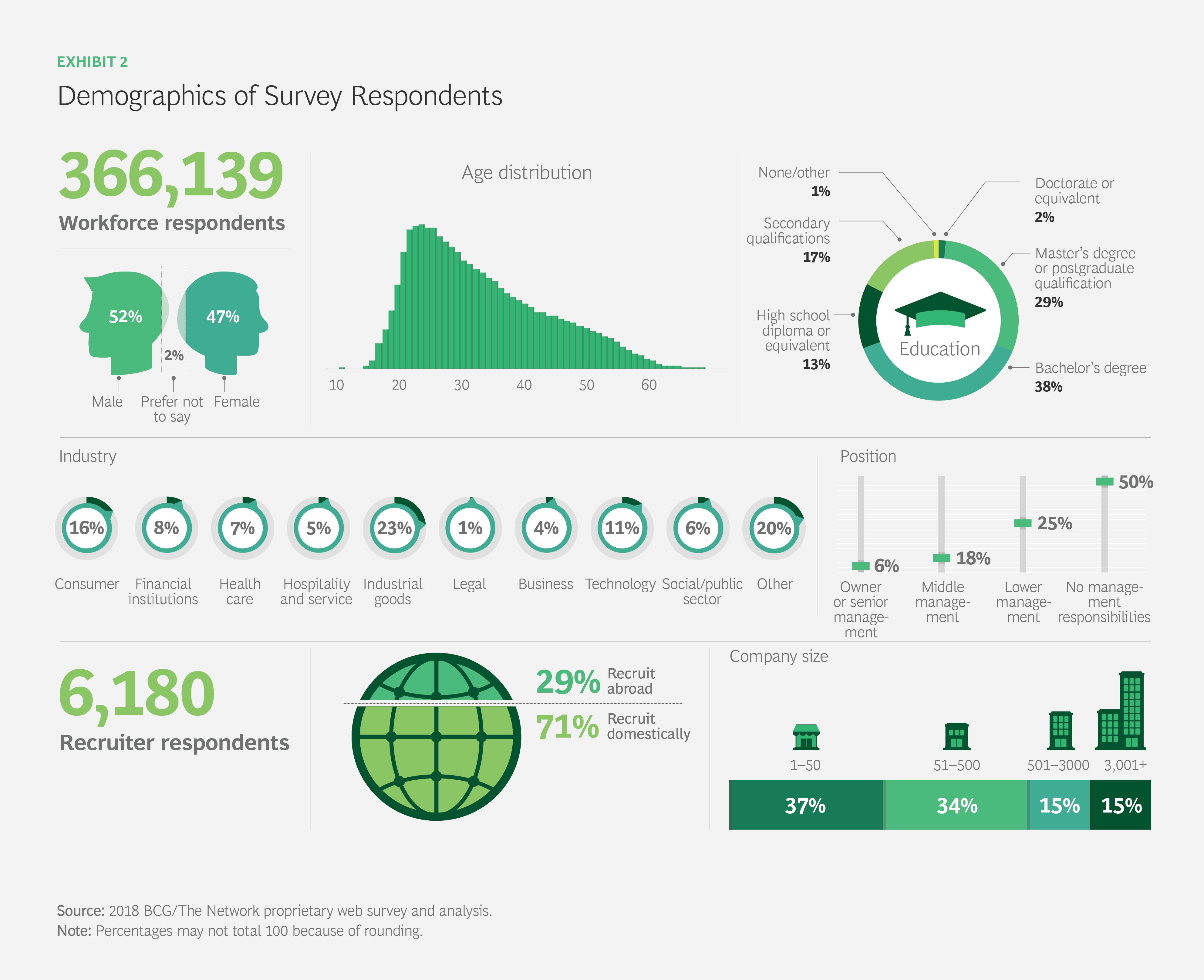 Meanwhile, industries like hospitality and manufacturing recorded the lowest number of people willing to change their professional location, with just 50%.
Whereas four years ago the prime reason for wanting to work in another country was to experience new things, this has now shifted to third behind better career opportunities and a higher standard of living.
UK performs poorly but London soars as a place to work
Prior to Brexit, the UK was the top European place to work for foreign employees looking to relocate.
It has retained popularity among Commonwealth countries like Jamaica, Barbados, Ghana and Nigeria – but since the decision to leave the EU in June 2016, its fortunes have reversed among countries that used to express great interest in working in Britain.
For example, in the 2014 survey, the UK was the number one destination to work for China but in 2018, it is seventh, behind countries like Australia and Japan.
However, London performed paradoxically well compared with the rest of the country.
"Interestingly, we have found that cities can have brands that stand apart from their country's brand, and this is what we have seen in the UK," added Mr Booker.
"While uncertainty in the UK may have been one of the reasons the country dropped in popularity among international workers, London continues to be the first-choice city for talent worldwide."
Causes for optimism for the rest of Britain
Despite London topping the list of places to work for foreign employees, other major cities across the UK are quickly becoming comparatively attractive hubs.
Stack Overflow – the world's largest community for developers to learn, share their knowledge and build their careers – has put forward a data-driven case as to why the rest of Britain is catching up with the capital.
General manager and vice-president Sean Bave said: "London may be the most popular city for overseas workers, according to BCG's study, but the UK as a whole is falling behind.
"We believe that the influx of tech workers into UK cities other than London belies this conclusion.
"While London is usually considered the UK's largest tech hub, there is enormous potential for other cities in the UK to be just as attractive to overseas workers looking to find jobs in the UK.
"A high number of software developers in a city is often an indication of a healthy economy – after all, developers are the drivers of technical innovation and growth."
More than 300,000 developers are based in London, making it the UK's largest tech hub.
But Stack Overflow data shows that one in seven workers in Bristol, Edinburgh and Belfast. Just outside the UK, the ratio is one in 10 for Dublin.
"These cities are on their way to the forefront of technical innovation and increased investment will only increase their attractiveness," said Mr Bave.
"We are happy to see investment into tech in these cities growing and welcome the UK Government's  recent announcement of an Institute of Coding, which will increase the number of software developers looking to work in the whole of the UK, not just London."