From addressing the increasing amount of space debris orbiting our planet to using satellites to support the roll-out of electric vehicles, the UK space sector is finally trying to make an impact
While it doesn't have the pedigree of other space-faring nations, the UK space sector is now moving closer to launch.
It's currently valued at roughly £170bn, triple what it was in 2000, with overall annual turnover now reaching £15bn off the back of widespread public sector backing.
While it doesn't have the pedigree of countries like the United States, Russia and China, Britain now accounts for 40% of all small satellites currently in orbit.
And the ground has been laid for the private sector to become more involved, too, with the UK government earlier this year passing the Space Industry Bill.
This will enable British businesses to compete in the country's first commercial space race, giving them much more accessibility to the industry in a bid to accelerate its continued progress.
Looking ahead, the government plans to have the UK space sector account for 10% of the global space market by 2030, up from about 7% by current estimates.
We look at some of the key funding initiatives and new technologies in the works, from cleaning up orbiting debris to sending worms into space, that are setting Britain on a pathway to the stars.
UK space sector: Post-Brexit security
The UK government announced on 29 August it will allocate £95m of the £3bn Brexit readiness fund to be used to design a national alternative to the EU's Galileo satellite system.
Satellite navigation systems such as GPS are key to multiple industries, as well as consumers in general, but without any guarantee that the UK will be involved with EU's Galileo system, it could be in danger of becoming irrelevant in the market.
The British government has publicly stated that it plans to remain in collaboration with the EU on all space projects, but with the new investment it will be able to develop its own system as well.
The UK Space Agency is leading the work on what will be known as the British Global Navigation Satellite System.
UK space sector: Clearing up orbiting debris
The RemoveDEBRIS mission, which is led by the University of Surrey, is soon to begin experiments in orbit after having been announced in June this year.
With manufacturing help from the world's leading small satellite provider Surrey Satellite Technology and French aerospace corporation Airbus, it will act as one of the world's first attempts to address the increasing amount of space debris orbiting our planet.
Some pieces of this debris travels faster than a bullet in motion, and posing a threat to satellites as well as the International Space Station itself.
Once complete, the RemoveDEBRIS mission will capture this debris using a net and a harpoon, before deploying a drag sail that will pull it back into the Earth's atmosphere – a process which burns the unwanted junk.
UK space sector: Monitoring illegal mining
The UK Industrial Strategy, which sets out the need to combine the country's research with its private sector, includes many space-orientated ventures.
Once of which is the government grant of £3.3m provided to Didcot-based tech firm Satellite Applications Catapult, which is developing space-enabled monitoring technology to track illegal gold mining.
The company is seeking to improve the detection capabilities of existing satellite monitoring systems to better identify illegal mining operations in remote, heavily forested areas.
The project will also involve machine-learning techniques, which will show illegal mining patterns in an effort to give law enforcement an edge.
UK space sector: Exporting to growing markets
In July, International Trade Secretary Dr Liam Fox announced plans to target two of the world's fast growing economies with a £1.5bn space export campaign.
It aims to have the US and India use more specialist British products in their respective space programmes and projects.
Dr Fox said: "We need to be reaching new markets with huge potential like India and the US, and we'll achieve this through our new space exports programme.
"With over a third of its business coming through overseas sales, the space sector is a great example of the benefits of seizing global opportunities, which in turn create jobs back home."
UK space sector: Supporting electric vehicles
In March this year, UK science minister Sam Gyimah announced a scheme to use satellite capabilities to support the roll out of electric vehicle charging points.
The project will involve a collaboration between geospatial specialists Energeo and Bournemouth Borough Council, which together will use satellite imagery and data to create an interactive map-based interface.
This will in turn allow the council to quickly identify specific charging points that require maintenance or repair, as well as give them the ability to track frequency of use and highlight potential obstructions.
Mr Gyimah said: "This project demonstrates the potential of satellite technology to benefit life on Earth with innovative solutions to various challenges.
"As set out in our Industrial Strategy, the UK Space Agency is working together with industry to ensure the UK thrives in the commercial space age."
UK space sector: Sending worms into space
The International Space Station will play host to hundreds of worms later in 2018 as scientists attempt to learn more about spaceflight-induced muscle loss.
The team of researchers from Exeter, Nottingham and Lancaster universities hope to use any potential findings to aid in developing effective therapies and new treatments for muscular breakdowns after spaceflight, as well as ageing muscle loss and even diabetes.
Libby Jackson, human spaceflight and microgravity programme manager at the UK Space Agency, said: "The Molecular Muscle Experiment will provide knowledge that will benefit our understanding of muscle ageing and help to improve life on Earth."
Spaceflight can have multiple health-related repercussions, with astronauts sometimes losing up to 40% of their muscle after six months in space.
The microscopic worms being used in the experiment share many of their biological characteristics with humans, and therefore make ideal test subjects for learning more about how to treat the consequences astronauts face, as well as those people face everyday on Earth.
Nate Szewczyk, professor of space biology at the University of Nottingham, said: "This research will help us establish the precise molecules that cause muscle problems during spaceflight and enable us to test the effectiveness of novel therapies for preventing the muscle decline associated with spaceflight."
Tim Etheridge, senior lecturer at the University of Exeter, added: "Worms are, perhaps surprisingly, a very good model for human muscle maintenance.
"At the molecular level, both structurally and metabolically they are highly similar to that of humans and from a space flight specific perspective – they provide a lot of practical advantages.
"They are very small, quick to grow, cheap and easy to maintain. It makes them good to work with."
The Molecular Muscle Experiment marks the first of a number of UK-led experiments to take place on the International Space Station.
UK space sector: Shining a light on the sun
An upcoming European Space Agency mission to learn more about the sun will involve sending a UK-built device into the orbit of the Earth's star.
The Solar Orbiter is preparing to leave the Airbus factory in Stevenage, UK, to travel to Germany for testing, ahead of its launch in 2020 from Cape Canaveral in Florida.
It will provide close-up views of the sun's polar regions, tracking solar storms and wind, which have a direct effect on the Earth's atmosphere – causing phenomena such as the Northern Lights.
The North and South poles reportedly "flipped" in 2013. The Solar Orbiter will attempt to determine the origin of this event.
Airbus engineers have designed and built the spacecraft to withstand both the scorching heat from the sun and the freezing temperatures of space.
Business Secretary Greg Clark said: "Our space sector is going from strength to strength with full backing from the government's modern Industrial Strategy and the UK Space Agency.
"We have world-class scientists and a strong track record of exporting to countries all over the world.
"From sending spacecraft to the Sun to supporting new technologies here on Earth, our commitment to the European Space Agency will continue to deliver ground-breaking discoveries, highly-skilled jobs and substantial economic returns to Britain."
UK space sector: Surveying the world's oceans
A new device, built in the UK, will play a key role in the first every global survey of the world's surface waters and oceans.
The Surface Water and Ocean Topography, or SWOT, mission is led by CNES (the French Space Agency) and NASA with support from the UK Space Agency and the Canadian Space Agency.
The SWOT satellite will use radar technology to measure the features of oceans, coastlines, rivers and lakes across the globe to improve understanding of changes over time relating to climate change and their impact on farming, industry and human populations.
The UK-built device, known as a duplexer, is a vital component that routes radar signals around the satellite and can transmit at a power of 1,500W – a level never before seen in this kind of device.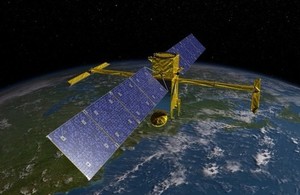 UK Space Agency director of growth Catherine Mealing-Jones said: "Satellites play a major role in understanding our home – planet Earth.
"Using great British technology, the SWOT mission is a great example of how satellites can take measurements of our environment from the unique vantage point of space, in this case, giving us the first global survey of one of our most precious resources – water.
"The UK and France are leading space powers in Europe and the delivery of the duplexer for the SWOT mission is a significant milestone in our partnership, which continues to go from strength to strength."